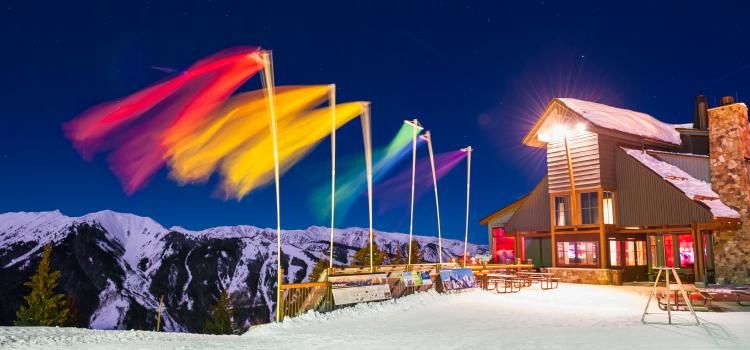 On January 11th, Gay Ski Week will return to Aspen for its 38th year of celebrating LGBT people from all over the country. This event is a fundraiser for The Roaring Fork Gay and Lesbian Community Fund which serves to promote understanding of the LGBT through education and community action. Parties, food, skiing, and music will be abundant all week long. No matter what you find yourself during the day, always be sure to meet up for après scene at The Limelight. Enjoy cocktails while you mingle with friends; old and new, before you head out to your destination for the evening.
Here are a few things to highlight for the week, but for a full and detailed list of the events, click here.
Starting on Sunday, there will be an opening cocktail party at Bootsy Bellows at 9 p.m. Enjoy a complimentary cash  bar while you meet and greet new people all night long. On Tuesday at 8:30 p.m., A Rocky Horror Picture Show will be taking place at the Wheeler Opera House. This event is followed by a late night dance party at Whiskey Rush. On Wednesday, there will be a fashion and art night hosted by many of the local galleries in town.
If you are a skier or snowboarder and want to hike the famed Highlands Bowl, make sure to get to bed early on Wednesday night, as the hiking group will meet at the top of the Loge lift at 11 a.m. on Thursday; drag attire for the hike is highly recommended! If you don't feel like you are up for the challenge of hiking the Highlands Bowl, but you still want to dress up in costume, don't worry! On Friday, at 12 p.m., meet at the Gondola Plaza at the base of Aspen Mountain. Prizes will be given out to those who race with the craziest style and costume. Finishing up the week on Saturday, there will be a HUGE pool and dance party  at the Aspen Recreation Center. This event is surely not one to be missed. DJ's, beer, and pool toys will make the end to an already great week even better! For details on how to get a ticket for this final party, click here.