Official Slogan for Aspen's 72nd Annual Wintersköl™
"Where would we rather be, Wintersköl 2023"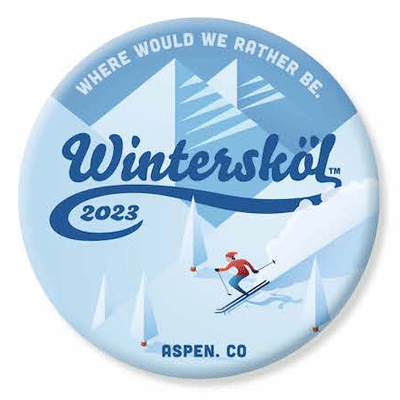 Thank you & congratulations to Amanda Rae Busch for being this year's slogan contest winner!
A tradition since the 1960's, the annual button captures the slogan created through a community contest. Many have collected the commemorative button each year. FREE buttons will be available during the dates of Wintersköl at Aspen Chamber Resort Association Visitor Center locations. ACRA visitor center locations: Visitor pavilion located at the corner of Galena St. & Cooper Ave. and main office located at 590 N. Mill St.
Submission Contest: CLOSED for 2023 Wintersköl
Looking Back: Past Wintersköl Slogans
2022 - "Positive Altitude"
2021 - "70th Wintersköl - The Snow Must Go On"
2020 - "Legendary Past, Visionary Future"
2019 - "Aspen, Original by Design"
2018 - "Together We Move Mountains"
2017 - "Our Cup Runneth Over"
2016 - "Aged to Perfection"
2015 - "Drop In & Dream"
2014 - "Locally Grown, Internationally Known"
2013 - "Vintage Spirit"
2012 - "Seize the Summit"
2011 - "60 years – A Cut Above the Rest" (60th Anniversary)
2009 - "Powder Days & Stellar Nights"
2008 - "Some Like it Hot!"
2007 - "From Aspen With Love"
2006 - "Winter Fun Since 1951!"
2005 - "Skol – Here's to the Best!"
2004 - "Un4gettable"
2003 - "Old Sköl, New Sköl,Wintersköl™!"
2002 - "Go for the Gold-It's Wintersköl!"
2001 - "50 Years of Mountain Magic" (50th Anniversary)
2000 - "Think Globally, Celebrate Locally"
1999 - "Forever Young 'til the End of Time – Wintersköl '99"
1998 - "Celebrate Our Heart & Soul"
1997 - "Legends of Old from Silver to Gold"
1996 - "Around the World from Pole to Pole"
1995 - "Having a Blast…Like Years Past"
1994 - "Winter Pride – Valley Wide"
1993 - "Hoe Down in Snow Town"
1992 - "Anniversaries Old and New Wintersköl '92"
1991 - "Cheers to Forty Years" Aspen/Snowmass Wintersköl 40th Anniversary
1990 - "Let the 90's Roll It's Wintersköl"
1989 - "Boomtown Then and Boomin' Again 1889-1989"
1988 - "Ski the Dream"
1987 - "Celebrate the Magic"
1986 - "The Greatest Show on Snow"
1985 - "Catch a Winter Wave"
1984 - "Galaxy of Fun"
1983 - "Aspen Fantasia"
1981 - "Crazy for the Eighties"
1980 - "Toast to Another Century" Wintersköl (Aspen Centennial 1880-1980)
1979 - "Still Mining the Good Times"
1978 - "Silver Mines Golden Times"
1977 - "Still Crazy After All These Years"
1976 - "Silver Skol"
1975 - "Mountain Mecca Madness"
1974 - "Snow Flies on Us, Wintersköl in Aspen"
1973 - "These are the Good Ole Days"
1972 - "Winter Smiles in Wonderland"
1971 - "You've Come a Long Way Baby" 1951-1971
1969 - "Aspen is…"
1968 - "Wintersköl has Aspenglow"
1966 - "There is no Aspen"
Looking Back: Past Wintersköl Buttons