Announcing the Official Slogan for Aspen's 71st Annual Wintersköl™
"Positive Altitude" 
Congratulations to our Wintersköl™ 2022 Slogan Winner Bill Simon!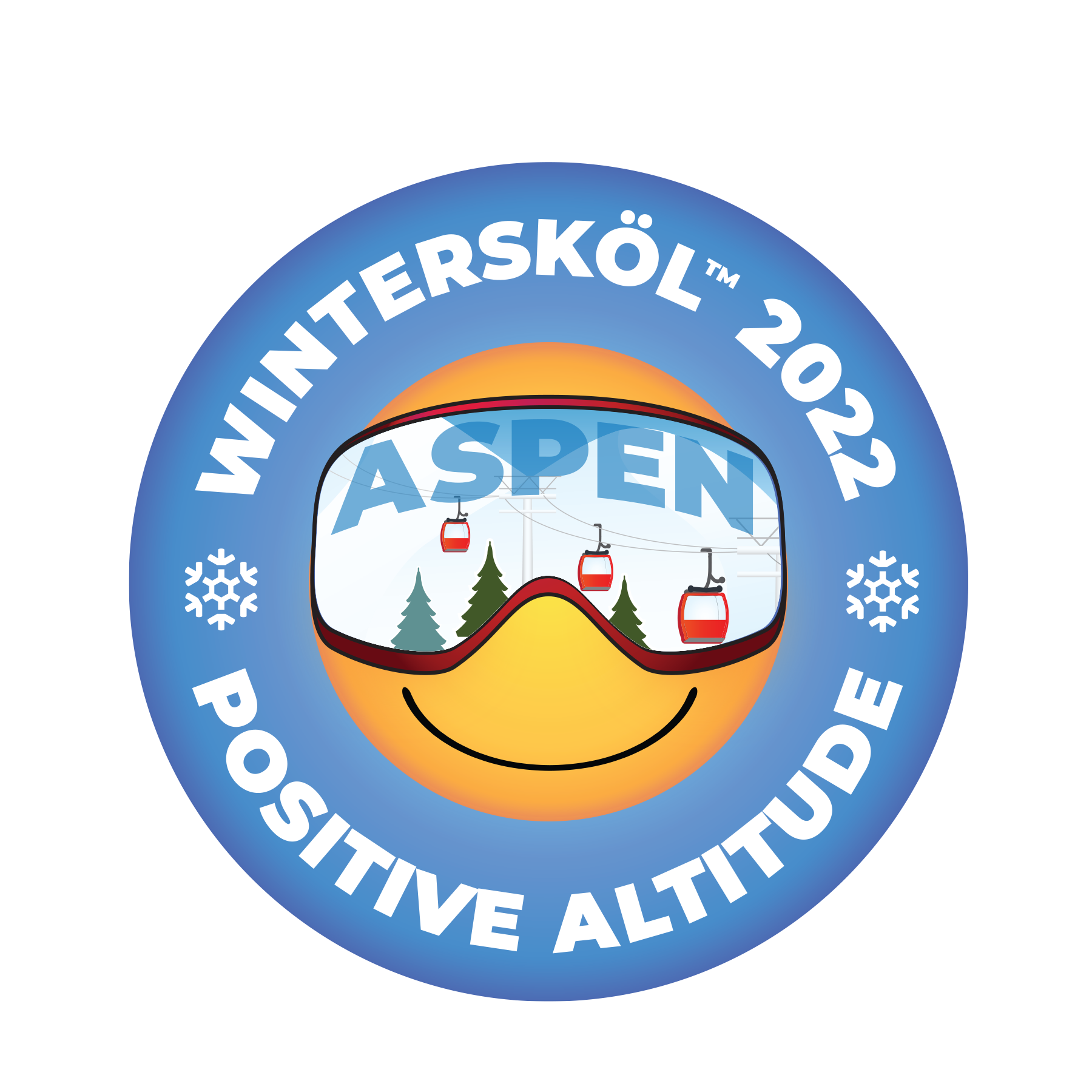 A tradition since the 1960's, the annual button captures the slogan created through a community contest. Many have collected the commemorative button each year. FREE buttons are available at Aspen Chamber Resort Association Visitor Center locations. ACRA visitor center locations: Visitor pavilion located at the corner of Galena St. & Cooper Ave. and main office located at 590 N. Mill St.
Looking Back: Past Wintersköl Slogans
2021 - "70th Wintersköl - The Snow Must Go On"
2020 - "Legendary Past, Visionary Future"
2019 - "Aspen, Original by Design"
2018 - "Together We Move Mountains"
2017 - "Our Cup Runneth Over"
2016 - "Aged to Perfection"
2015 - "Drop In & Dream"
2014 - "Locally Grown, Internationally Known"
2013 - "Vintage Spirit"
2012 - "Seize the Summit"
2011 - "60 years – A Cut Above the Rest" (60th Anniversary)
2009 - "Powder Days & Stellar Nights"
2008 - "Some Like it Hot!"
2007 - "From Aspen With Love"
2006 - "Winter Fun Since 1951!"
2005 - "Skol – Here's to the Best!"
2004 - "Un4gettable"
2003 - "Old Sköl, New Sköl,Wintersköl™!"
2002 - "Go for the Gold-It's Wintersköl!"
2001 - "50 Years of Mountain Magic" (50th Anniversary)
2000 - "Think Globally, Celebrate Locally"
1999 - "Forever Young 'til the End of Time – Wintersköl '99"
1998 - "Celebrate Our Heart & Soul"
1997 - "Legends of Old from Silver to Gold"
1996 - "Around the World from Pole to Pole"
1995 - "Having a Blast…Like Years Past"
1994 - "Winter Pride – Valley Wide"
1993 - "Hoe Down in Snow Town"
1992 - "Anniversaries Old and New Wintersköl '92"
1991 - "Cheers to Forty Years" Aspen/Snowmass Wintersköl 40th Anniversary
1990 - "Let the 90's Roll It's Wintersköl"
1989 - "Boomtown Then and Boomin' Again 1889-1989"
1988 - "Ski the Dream"
1987 - "Celebrate the Magic"
1986 - "The Greatest Show on Snow"
1985 - "Catch a Winter Wave"
1984 - "Galaxy of Fun"
1983 - "Aspen Fantasia"
1981 - "Crazy for the Eighties"
1980 - "Toast to Another Century" Wintersköl (Aspen Centennial 1880-1980)
1979 - "Still Mining the Good Times"
1978 - "Silver Mines Golden Times"
1977 - "Still Crazy After All These Years"
1976 - "Silver Skol"
1975 - "Mountain Mecca Madness"
1974 - "Snow Flies on Us, Wintersköl in Aspen"
1973 - "These are the Good Ole Days"
1972 - "Winter Smiles in Wonderland"
1971 - "You've Come a Long Way Baby" 1951-1971
1969 - "Aspen is…"
1968 - "Wintersköl has Aspenglow"
1966 - "There is no Aspen"
Looking Back: Past Wintersköl Buttons