Please note that due to COVID-19 many camps have had to alter their programming, group sizes or offerings.
June-August
ACES is abuzz with children's voices and laughter during the summer months. From June through August, they offer fun and educational kids' camps at Hallam Lake in Aspen and Rock Bottom Ranch in Basalt. Featuring a mix of environmental science education and outdoor exploration, their drop-in, daily, weekly, and overnight options make for an exciting and memorable summer!
June - August
Ajax Adventure Camp's mission is to Inspire Awesomeness! Ajax Adventure Camp is not your typical kids camp. The camp philosophy is to give campers the freedom to craft their own adventure by choosing from about a dozen activity offerings every morning and anozen activity offerings after lunch (lunch is provided of course!). There are 100's of different activities offered throughout the summer including: Rock Climbing, Paddle boarding, Paint-balling, Rafting, Archery, Robitics, Canoeing, BMX Biking, Fishing, Rockets, Paintchery, Marmot Tag, Skateboarding, Camping, Small animals, Sportz, Arts & Crafts, Tenkara Fly Fishing, and 100's more. Registration options include punch passes (pick and choose what days throughout the summer you would like to attend) and full day trips. Learn more at: ajaxadventurecamp.com
July 6 - August 21
The Ranch engages and inspires young artists with week-long workshops and camps.
Aspen Art Museum Kids' Summer Workshops
June 15- August 14th
Summer Workshops at the Aspen Art Museum use art on view as a starting point for unique, creative art-making opportunities for a wide range of ages and interests.
Professional artists and educators guide participants through concept and material exploration. Each Workshop develops an understanding of contemporary art through fun hands-on projects, gallery explorations, and off-site excursions that culminate in a student exhibition, performance, or party.
9am-3pm
Tiny Dance Summer Camp (Ages 4-6)
June-August
Tuition $160-$240 (per week)
Aspen Parks and Recreation Summer Camp
Come play with the Aspen Recreation Department during summer break. All camps are state licensed programs designed for youth 5-10 years old. Days will be packed full of fun & educational activities such as swimming, skating, climbing, hiking, rafting and much more.
June 8-August 17
7:30 a.m.- 5:30 p.m.
All camps meet at Aspen Elementary School Cafeteria
Join us for great aerobic conditioning in Colorado's mountains. All sessions offer three "on ice" sessions per day, plus daily video and lecture sessions by the coaching staff. Our new daily schedule allows time for various recreational activities. The Bob Johnson Hockey School also offers specialized instructional sessions & discounted tuition for goalies.
July 26- August 1
Lewis Ice Arena
Buttermilk Glacier Summer Snow Sessions
For the 8th year AVSC will host summer skiing and snowboarding training at Buttermilk! Each week will start with a goal setting session to get focused and achieve the most out of the training. They offer professional coaches at a quality training facility for the fraction of the cost. Their continued summer on snow training has been instrumental in their tremendous athletic success and have helped lower their injury rate.
June 1-6, 8-13, 15-20, 22-27.
A fun, dynamic mountain environment with daily and weekly programs for kids of all ages at the Treehouse Kids' Adventure Center. A wide range of daily activities and specialty camps, including mountainboarding, climbing, hiking, eurobungee, overnight camping, and rocket building, make this a must-experience summer adventure.
June 15-August 30
970-923-1227
Camp Cozy Point focuses on cultivating confident and responsible riders with a foundation in basic horsemanship. Our campers gain a well-rounded education on and off the horse in skill specific group riding lessons and in the barn -- learning basic veterinary care and general care for the horses and equipment.
June 8-August 14
970-922-0025
This Summer Camp consists of one-week sessions targeted toward applied techniques for beginner, intermediate, and advanced players, as well as a computer-based JAS Beat Lab session. JAS brings in faculty from Colorado University as well as local musicians.
Advanced June 15-26 Intermediate July 13-25
Advanced and Intermediate
Tuition- $400
JAS Beat Lab
For more information contact 970-920-4996 [email protected]
Mountain Kids Academy is a dynamic summer experience, offering fun practice in a variety of sports and backcountry skills. Our mission is to foster team-building, confidence, connections, and enthusiasm for life within and beyond our beautifully unique mountain home.
June 1-8, 8-12, and 24-28
3D Printing Education for Kids 8 + years old in the form of 2-day workshop in downtown Aspen. The workshops are limited to only 6 students to ensure quality of the learning process. Each kid will be provided with their own 3D Printer to work with during the camp and will get to keep their own creations at the end. The 3D Printing Shop in Aspen also offers private one-on-one sessions for kids and adults alike who would like more personal attention and to go beyond the basics of 3D Printing.
July-September 1
Price $189
970-544-6000
Bases out of Aspen (AVSC Clubhouse & Aspen High School Trails), this program bridges Base Camp and National Comp. It is designed for athletes of all ability levels. Skiers will continue to focus on fundamentals and fun. Dryland activities will be geared towards cross country skiing but are appropriate for any child wishing to increase athleticism. Activities will include trail running, core and agility, rollerskiing, games (soccer, ultimate frisbee) ski walking, rock hopping and laughing.
June 16th-August 13th
Price $350
During the summer the Red Brick hosts week-long day camps where children explore different themes each week through a variety of mediums such as papier-mâché, ceramics, mosaic, painting, collage and more! In addition to art making, campers will venture outside for a picnic and play in the park and enjoy weekly field trips to experience and see art in Aspen. Camp themes include Latin Festia, Mythical Creatures, Plateosaurus Printmaking, Sewing and Jewelry Making, POW! Comic Book Art, and Plein-Air painting. Weekly camps will run July 8 – August 21. Visit RedBrickAspen.com for more info and to register.
Increase your air awareness, learn new tricks, build your confidence and continue your progression by enrolling in tramp camp with the AVSC coaches! At AVSC Tramp Camps athletes will use our Supertramp, Flybed Trampoline and Mini Tramp facilities to mazimize progressions and fun. Whether you're already an accomplished bouncer or just getting started, we have coachs and ability groups to take you to the next level.
Ages at least 7 years old
June 1-26
1:30-3:30 p.m.
$65-$300
970-429-2777
Theatre Aspen's summer education experiences inspire and educate the next generation of theatre artists, enthusiasts, and patrons through high-quality, age-appropriate training programs and productions. Students will enhance their creative impulses, strengthen collaborative skills, build confidence, make new friends, and much more. Theatre education empowers students of all ages to meet life head-on wherever they go, and in whatever circumstances they find themselves, whether on stage, in the classroom, the workplace, or beyond.
970-300-4357 [email protected]
Juniors Programs (K to 2nd grade)
June 29-July 2
July 6-10, 13-17, July 20-24, 27-31, and August 3-7
Juniors Programs (grades 3-6)
July 6-10, July 13- August 8
Performance Based Programs (grades 7-12)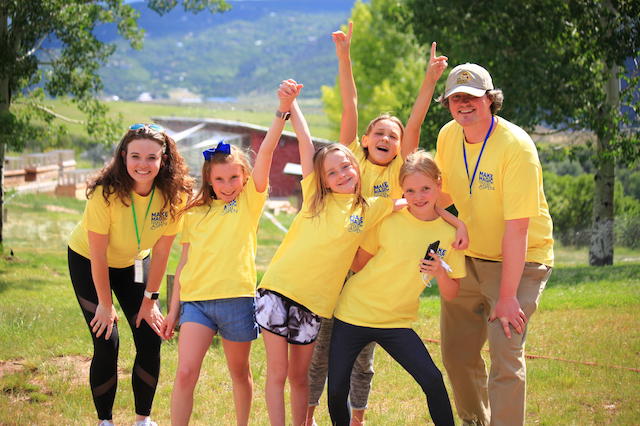 We are excited to have your child with us this summer! The program will include many different activities and fun field trips. We will take advantage of programs offered by the Pitkin County Library, ACES at Hallam Lake, and any others that may come up during the summer. Our counselors are energetic, responsible, creative and FUN!
Ages 3-5