From Denver to Aspen and More
There's no question that once a visitor arrives in Aspen, they will be blown away by the myriad of things going on in town. The endless dining options, renowned nightlife, world-class cultural events, and pristine trails to explore via foot, wheels or jeep are well documented. With highways that are lined with jagged cliffs, winding roads over high-alpine passes, and deserted back-roads from the desert, accessing Aspen can be nearly as memorable as the time spent once you arrive. Here are 5 drives to Aspen that double as terrific day trips:
For an in-depth look at scenic byways throughout Colorado, visit http://www.coloradobyways.org/.
Drive from Denver to Aspen
Over Independence Pass
A majority of visitors to Aspen originate in Denver, or Colorado's "Front Range," having flown into Denver International Airport (DIA) or residing in a city or town along the eastern edge of the state. Without question, the can't-miss drive to Aspen from the front range travels over Independence Pass (via Highway 82, which is open during the non-winter months). A handful of gorgeous roads lead to Independence Pass, such as the high-plateau plains of Jefferson and Grant along Highway 285, driving alongside the Collegiate Peaks near Salida and Buena Vista, and the switchback-turns on Highway 24 from Minturn. Be sure to have your camera ready as you pass Twin Lakes and descend towards Aspen; the countryside over Independence Pass is stunning! This is part of the Top of the Rockies Colorado Scenic Byway Tour.  
Through Glenwood Canyon
Don't ignore the classic. Highway I-70 from Denver passes through the Glenwood Canyon on the "Million Dollar Highway." Jagged cliffs line the Colorado River between Gypsum and Glenwood Springs, and there are a handful of trails accessed right of the highway that weave up into the mountains and offer a great respite from the drive. One great hiking option is the quick and moderately strenuous trail that leads to Hanging Lake just outside of Glenwood Springs. Most people recognize the waterfall at the summit of the trail as the iconic falls from Coors Brewing Company advertisements. And, the Glenwood Hot Springs are the perfect place to soak your sore muscles after the hike, before heading in to Aspen.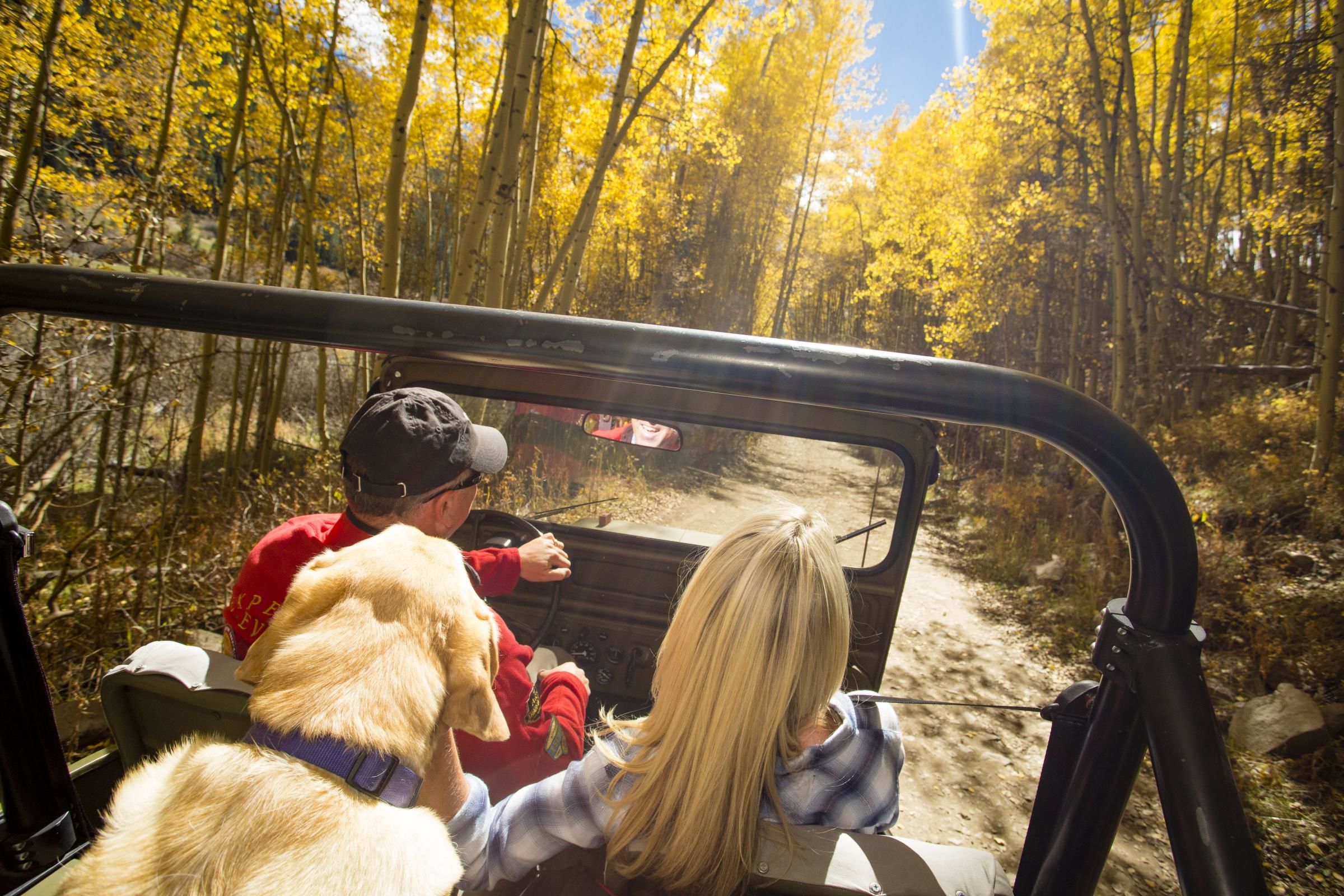 Other Scenic Drives