ASPEN IS ONE OF THE MOST CHERISHED DESTINATIONS. BY TAKING THE ASPEN PLEDGE AND COMMITTING TO BE A RESPONSIBLE VISITOR, YOU CAN HELP ENSURE THAT ASPEN REMAINS A BEAUTIFUL AND UNIQUE DESTINATION FOR YEARS TO COME.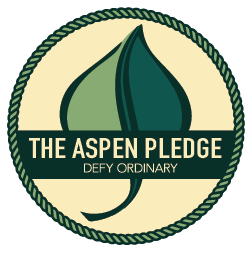 I PLEDGE TO EXPLORE ASPEN RESPONSIBLY.
I WILL COME PREPARED FOR ANY EXPERIENCE.
I WILL FEED MY SENSE OF ADVENTURE, BUT NEVER FEED THE WILDLIFE.
I WILL FOREGO HIGH FASHION, AND DRESS FOR HIGH ELEVATIONS.
I WILL VENTURE INTO THE GREAT UNKNOWN WHILE STAYING ON THE KNOWN TRAILS.
I WILL CARVE THE SNOW AND NOT THE TREES.
I WILL FIND MYSELF WITHOUT MOUNTAIN RESCUE HAVING TO FIND ME.
I WILL HIT THE SLOPES WITHOUT HITTING THE OTHER SKIERS.
I WILL TAKE AWESOME SELFIES, WITHOUT ENDANGERING MYSELF-IE.
I WILL CAMP ONLY WHERE PERMITTED AND SECURE A PERMIT WHEN NECESSARY.
I WILL REMAIN IN ONE PIECE, BY LEAVING THE WILDLIFE IN PEACE.
I WILL ADHERE TO SKI PATROL CLOSURES AS I WANDER HERE AND THERE.
I WILL NOT SKI IN JEANS.