In early 2020, Colorado's Roaring Fork Valley (home of Aspen, Basalt, Carbondale, Glenwood Springs, & Snowmass Village) was designated a Gold-Level Ride Center by the International Mountain Bicycling Association. This marks the first Gold Level Ride Center and First Gold-Level IMBA Ride Center™ in Colorado, and fifth in United States. Here's everything you need to know about our designated Gold-Level status.
What is IMBA?
IMBA is the International Mountain Biking Association that educates and awards the pinnacle of mountain biking communities based on the extensive variety of high-quality rides, and fun beyond the trails. IMBA recognizes outstanding destination-worthy mountain bike trail communities as Ride Centers™ and adventurous backcountry trails as IMBA EPICS. The goal of the program is to inspire, inform and engage local stakeholders so that mountain bikers can have more great places to ride.
What criteria is required to be designated as a Gold-Level Ride Center?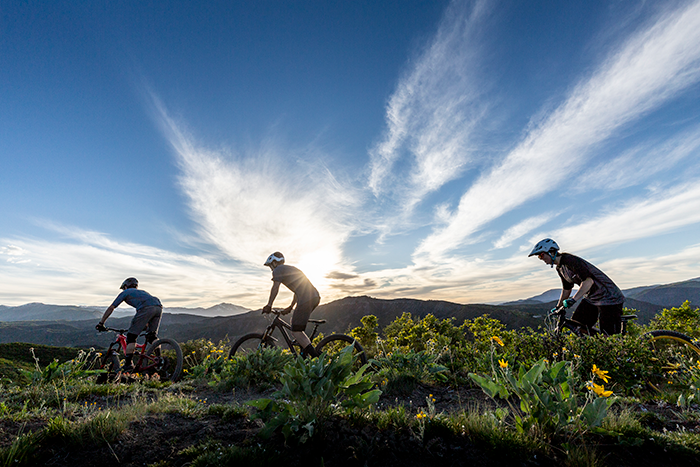 The IMBA Gold-Level evaluation criteria is comprised of key aspects that make for an amazing mountain bike destination and include variety of trail types, overall trail mileage, quality of trail experiences, destination best practices, and local services. The Roaring Fork Valley's system of trails scored high marks in each of these categories, contributing to the IMBA Gold-Level designation.
Aspen as an iconic mountain biking destination.
From Aspen's Hunter Creek Valley, to Sky Mountain Park single track between Aspen and Snowmass Village, to the Rio Grande Trail connecting the entire valley, to lift-served trails on Snowmass, the Roaring Fork Valley reigns as one of America's top mountain biking destinations. With more than 300 miles of high quality single-track to explore, the Roaring Fork Valley provides an incredible breadth of experiences for both local and visiting riders seeking beauty and exhilaration. 
How do the trails connect throughout the Roaring Fork Valley?
The Roaring Fork Valley offers incredibly convenient and connected access between the five communities (Aspen, Basalt, Carbondale, Glenwood Springs, & Snowmass Village). The Rio Grande Trail is a surfaced pathway that connects trail users from Glenwood Springs, through Carbondale, Basalt, all the way to Aspen, 42 miles away. As riders traverse the Rio Grande Trail, they can choose from over 300 miles of easily accessed scenic terrain, from mountainous slopes and peaks, down to the valley floor. Favorite rides near Aspen and Snowmass Village include classics like the Government and Sunnyside Trails, with newer trails at Sky Mountain Park offering a way to link the upper valley trails together into loops ranging from an hour or two, to all-day adventures. While Snowmass offers beauty and challenge in all directions, the Snowmass Bike Park's gondola and chairlift deliver riders above 11,000', and offer descents of over 3,000' to arrive back at Snowmass Town Park. Exploring the middle of the valley in Basalt and Carbondale, riders can find red rock terrain and desert cactus at Red Hill, or endless aspen tree groves and massive views of the Elk Mountains range on the Hay Park Trail. Red Mountain, one of Glenwood Springs' new favorite trail systems, includes the Grandstaff Trail where grand views of Mount Sopris meet fun flow, big vertical drops, and optional airtime.
What can you do post-ride?
The Roaring Fork Valley is home to more than 10 bikes shops that are recognized for quality service and product, and some of the best restaurants, bars, and post-ride hangouts in the state. After a post-ride drink, enjoy an evening at one of the Valley's world class lodging options, or visit on of the many spa options located in Aspen. For a post-ride meal, the options are endless with over 80 eateries in Aspen alone that range from Mexican to BBQ to farm-to-fork freshness, and more. Close out the day with a sunset ride on the trail, followed by an evening with live music, local beer and a dance party with the locals.
Explore more of our favorite mountain bike trails in Aspen here.
For more information, please visit RFMBA.org/Ride-Center. Watch the video here.