American Lake Trail: This short trail climbs steeply through aspen groves, forests and meadows to a high mountain lake just below the timberline, offering hikers a good workout and a great way to acclimate for some of the Aspen area's more challenging trails. The trail rises steeply and then follows a series of switchbacks for the first 1 1/2 miles.  Then the trail levels off with gentle rises until you reach the lake at 3.2 miles.  3.2 miles one way, elevation: 9,400 ft. - 11,400 ft, rated as moderate to difficult. Local tip: Get an early start to avoid afternoon thunderstorms. Trail directions and information can be found here.
Cathedral Lake: Cathedral Lake is one of the most popular day hikes in the Aspen area. The stiff climb, ascending 2,000-ft. up beautiful Pine Creek, traverses aspen groves, spruce-fir forests and meadows on its way to Cathedral Lake, an alpine jewel cradled in a stunning cirque of jagged granite summits and rugged ridges, anchored by Cathedral Peak.  The hike is about 3.5 miles one-way and rated as moderate to difficult. Local tip: Hikers with the time and (energy) can extend the hike by climbing the challenging and steep trail to Electric Pass, a spectacular viewpoint on a high ridge running between Cathedral and Electric Peaks. Directions to the trailhead and further information can be found here.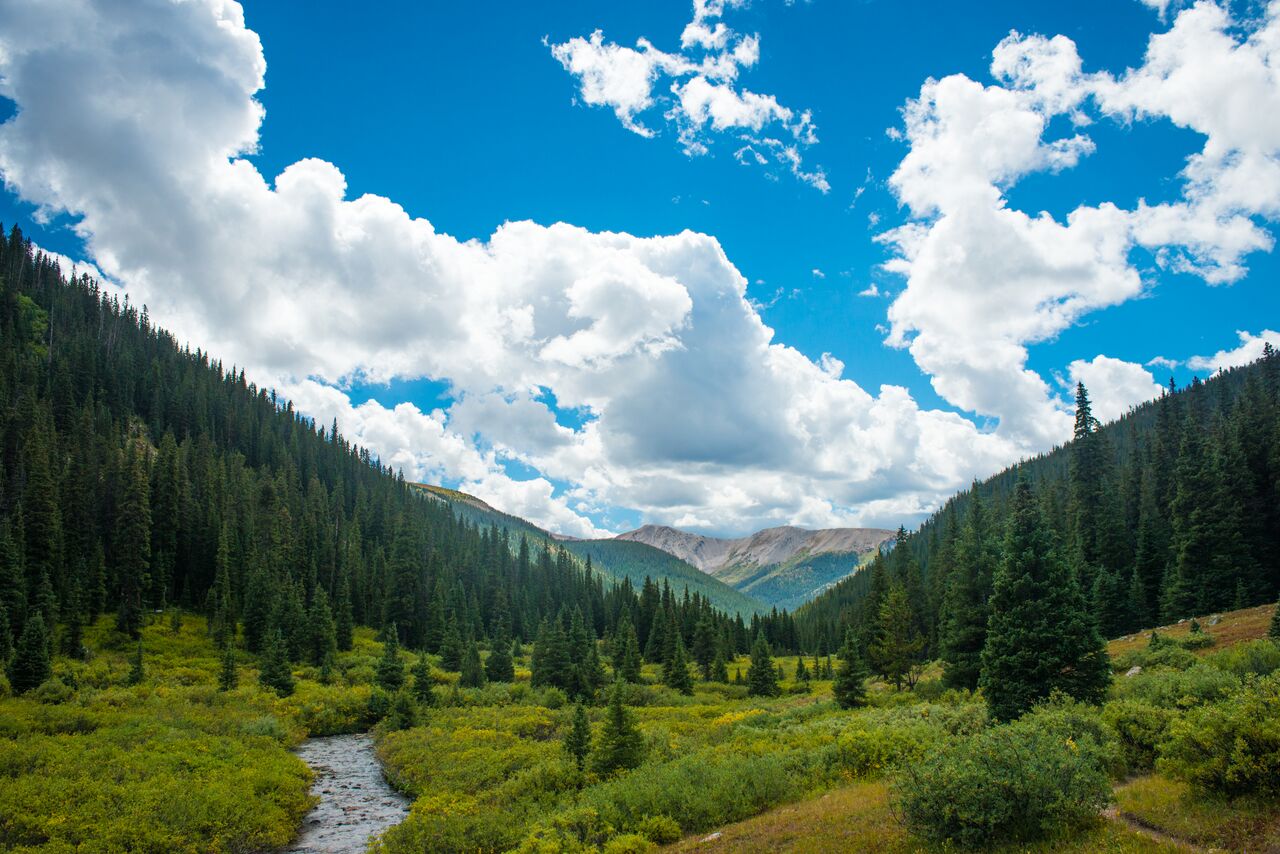 Grottos: This is a popular area for picnicking and exploring, especially for families, as the hiking is very easy. There is a waterfall, some interesting rock formations, an ice cave and numerous short trails. The Grottos are nine miles east of Aspen on Highway 82. Local tip: If you're planning on checking out the ice caves go with a friend for a helping hand to assist with climbing in and out.  For directions and more information click here.
Lost Man Trail: The Lost Man Trail features some of the easiest access to an alpine wonderland of meadows and lake anywhere in the area. This is a moderate climb with a couple of steep sections with the trailhead located off of Independence Pass.
Lost Man spans a diverse ridge between the Roaring Fork headwaters and Los Man Creek drainage. Views are outstanding, with hike-able routes that branch off to Geissler Mountain and points on the Continental Divide. Views down Lost Man Creek valley are worth a look, and a great place to scan high slopes and ridges for mountain goats, bighorn sheep and elk. This hike is rated as difficult and average time is about 6-7 hours. Elevation fain is 1,294 feet, and length is 8.8 miles.
Local tip: to complete the loop (note it's not a true loop, it begins/ends at different trailheads which are four miles apart) it is suggested to arrange a shuttle or you'll have to walk the road. For complete directions and more information click here.
Weller Lake Trail: This trail is rated as easy and is around .6 miles one-way, which usually takes hikers about half an hour one way. It is a good hike to take for those looking to get acclimated to the altitude. The hike is not long and is a gradual climb through the woods upon arriving to Weller Lake. Local tip: Bring your kids for this easier hike, and as always, make sure everyone is wearing proper footwear