This week's guest blog comes from Greg Shaffran of Mountain Rescue Aspen. Greg has been teaching avalanche training courses for 15 years and is a leader on backcountry safety in the Roaring Fork Valley. Whether this is your first time in the backcountry or a seasoned expert, use Greg's approach to backcountry preparedness below to "know before you go" when attempting terrain outside of ski area boundaries. 
Learning how to be safe in the mountains is a journey, not a destination. Since the process of honing and refining our skills never ends, getting started can sometimes feel daunting and undefined. As a Mountain Rescue Aspen member of 10+ years, I can attest, I am constantly learning, tweaking, and improving how I prepare for trips into the backcountry, both for recreation and for rescue.
Fortunately, there are tools, resources and courses aplenty to help guide you on your path towards mountain safety enlightenment. The Ten Essentials is a well adopted packing list, but it's also a guide to help you navigate the different areas where you'll want to pursue educational opportunities. For the Mountain Rescue Aspen's most recent annual summer workshop, we divided these essential items into four tracks: self-care, medical, planning, and survival.  
1. Self-Care:
As rescuers, we train and prepare to help those injured in the mountains, but we know we can't do that if we are unable to take care of ourselves. Just as rescuer safety is the No. 1 concern on rescuers mind, so too must you prioritize being personally prepared. You're in a much better place, if something does go awry, if you're well rested, physically strong and conditioned, hydrated, and properly nourished.
2. Medical Training:
The clothing and food you take will depend on the day's adventure, but proper, and recent, medical training is always in season. You don't have to be a doctor, but taking, or retaking—if it's been awhile—a first-aid and CPR course, first responder, or wilderness first responder are all good ideas.  
3. Survival:
Accidents in the mountains are unexpected, but they are not unusual.  The key to survival is anticipating that things can, and will, go wrong. Prepare for that. Getting delayed and coming back at night is always a possibility, and so something as simple as keeping  a small headlamp in your pack 'just for emergencies' could be the difference between an unanticipated evening stroll, and a twisted ankle or worse. 
4. Planning: 
Dwight D. Eisenhower was spot on  when he said "…plans are useless, but planning is indispensable." The process of planning is how you'll know what you need to take care of yourself, and what could go wrong.  Avalanche safety, weather forecasting, and navigation courses will help you plan, and better understand what is involved in the realms of self-care, wilderness emergency medicine, and survival techniques.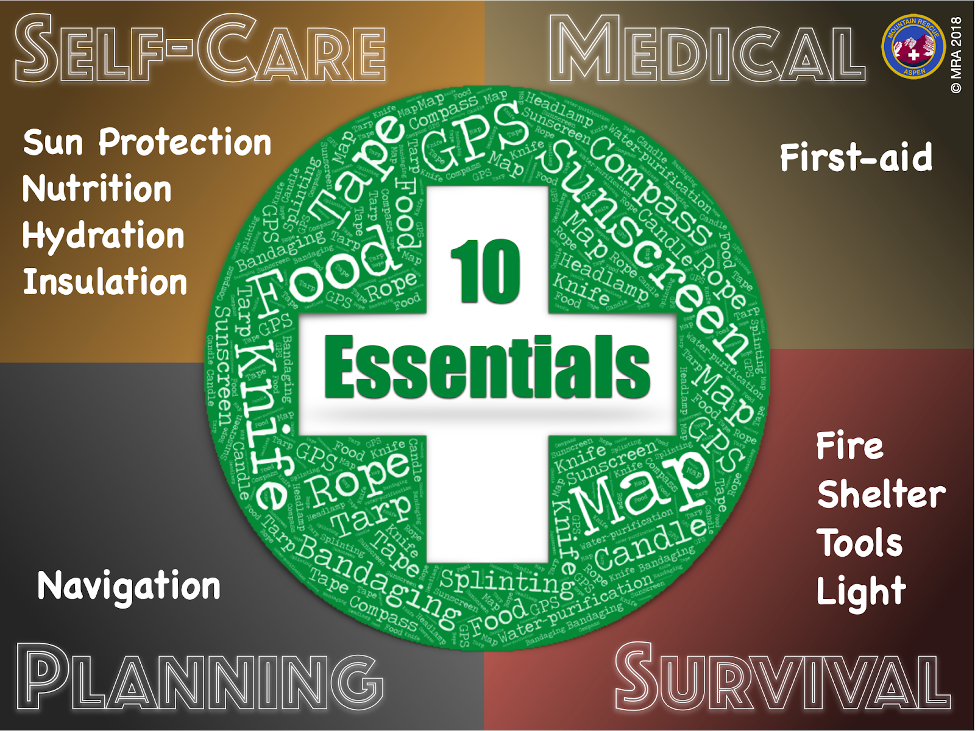 More About Resources & Courses
There are various avenues where you can find courses and opportunities to learn more about mountain safety. One of them is mountainrescueaspen.org. Thanks to the community's generous donations, we have been able to build out a robust (and growing) online educational portal. Mountain safety education has long been a part of Mountain Rescue Aspen's mission statement, which we've implemented for countless community events. We're excited to take this initiative to the next level and provide digital resources. Please visit our education page and click around. You'll find videos and articles about various mountain safety topics. While you're on the site, take the opportunity to check out our events page too. Sign up to be on our email list to be noticed of the various events we host for in-person, and/or virtual, learning. 
The opportunities for backcountry recreation in the Aspen-Snowmass area are boundless and inspiring.  Hopefully that inspiration for endless adventure carries over to your interest and dedication to learning to be safe in the mountains. As the saying goes, 'an ounce of prevention is worth a pound of cure.'  When accidents happen in the backcountry Mountain Rescue Aspen can't provide a cure, but we can help. We know there is a learning curve with inherent dangers along the way, and are there to support you after, and before, accidents happen.
For more information on how to backcountry in Aspen click here. 
Stay in the know, sign up for our Monthly Newsletter & keep up-to-date on Aspen events, activities, lodging deals and more. 
Don't forget to follow us on social @AspenCo and tag us in your Aspen adventures for a chance to be featured on our page.