The Farm to Table dining concept has connected local food producers with delectable dishes and beverages served in restaurants. Here in Aspen, there are several restaurants that take part in the farm to table movement, making it easy to support small-scale farmers and enjoy local fare when dining out.
Ellina
Ellina, led by Executive Chef Miguel Diaz, incorporates locally sourced ingredients and offers a true farm to table dining experience. The menu presents house made pastas and breads, as well as local beef, lamb and pork. Produce used in Ellina's dishes is carefully chosen from a selection provided by nearby farm purveyors.
Ajax Tavern
Located at the base of Aspen Mountain, Ajax Tavern provides a casual dining environment with French-American Tavern Cuisine. The menu is driven by the availability of local ingredients and utilizes the abundance of farms in the state of Colorado.
Pine Creek Cookhouse
Pine Creek Cookhouse, located in an Aspen grove at the base of the Elk mountain range in Ashcroft, offers adventure dining and fine mountain cuisine. The cookhouse strives to create lunch and dinner dishes that are sustainable and characterize the Roaring Fork Valley lifestyle. Seasonal menus are created with ingredients that are locally sourced and responsibly raised.
Rock Bottom Ranch
Rock Bottom Ranch is the mid-valley hub for the Aspen Center for Environmental Studies (ACES). Throughout the summer, Rock Bottom Ranch holds farm to table dinners that celebrate local and sustainable agriculture. Guests have the opportunity to enjoy a 5-course meal of local produce, meat, cheese, wine, beer, spirits, coffee and tea. Tickets may be purchased through the ACES website.
Meat and Cheese Restaurant and Farm Shop:
A celebration of home cooking, Meat and Cheese Restaurant is a hybrid restaurant and farm shop offering locally sourced and sustainably raised ingredients. Practically everything is made from scratch and the menu is nothing but delicious by incorporating traditional cooking styles from Asia, Europe, and the Americas.
Pyramid Bistro
Pyramid Bistro's understated setting speaks nothing of their fresh, nutritional food that takes you on head chef Martin Oswald's journey of healthy eating. Their menu consists of food being prepared "Nutritarian Style" meaning that their foods are prepared to eliminate harmful ingredients in the form of vinaigrettes, sauces, purees, and pastries. Mark Oswald "eats to live" and his menu embodies fresh ingredients that circle around his belief.  
Cache Cache
"We work with many local purveyors from the roaring fork valley, Paonia & western slope, Newcastle, Rifle & throughout eastern & southern CO. We at Cache Cache, were definitely in the leading group of restaurants to really embrace this philosophy. We took groups made up of our chefs & other restaurants' chefs over to Paonia on farm trips to meet the farmers, see the plants & touch the earth. After which we cooked food for the locals at the local brewery and held quite the party. Still talked about over there by the locals." – Head Chef Nathan King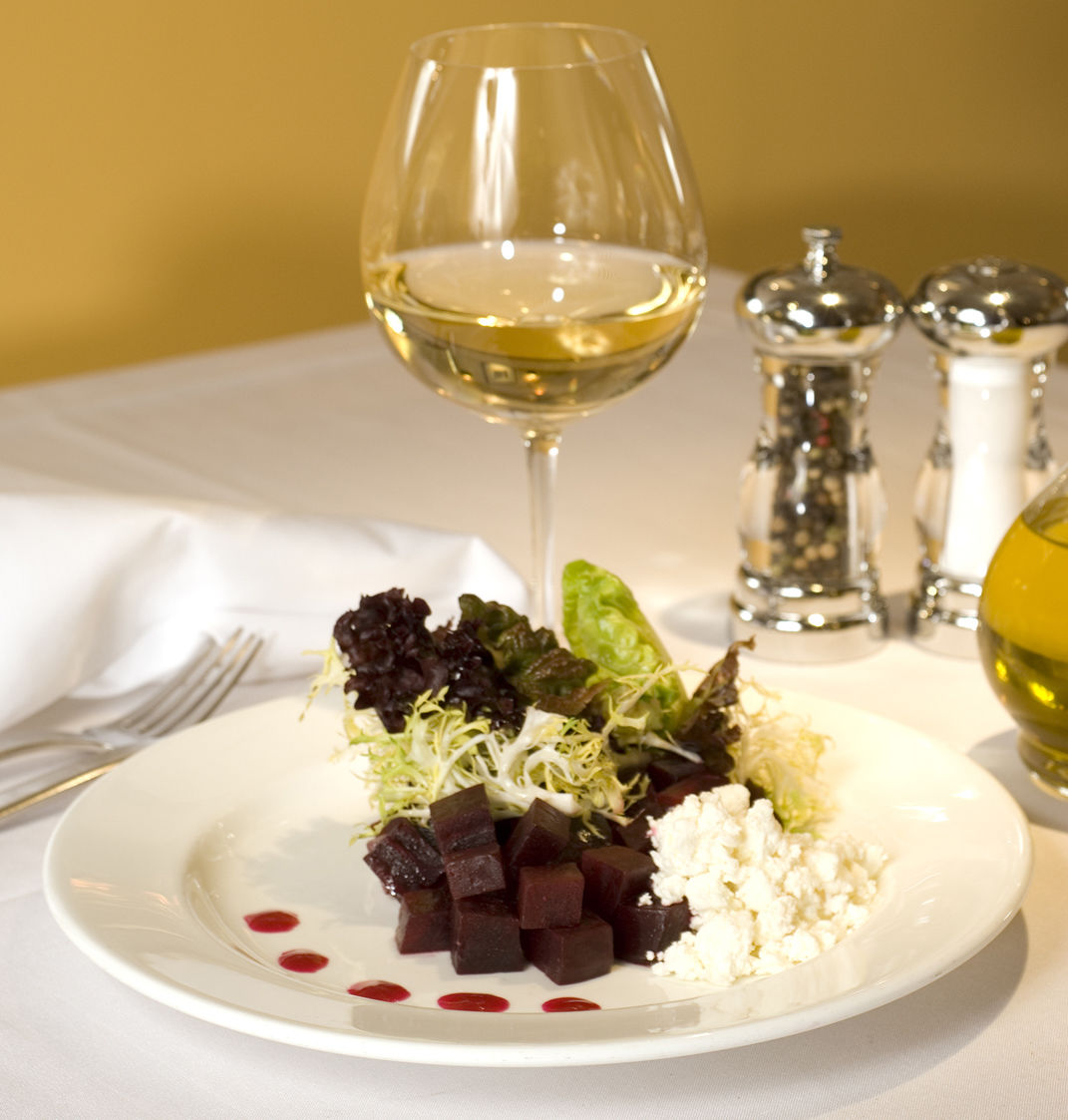 Aspen Saturday Market
With a three-month growing season, Aspen and the Roaring Fork Valley are remarkably connected to their food. With ranch dinners monthly at Rock Bottom Ranch and Aspen TREE, local crops are celebrated throughout the summer at the Aspen Saturday Market and on the menus at nearly all restaurants in town. 
Bosq
Chef Barclay Dodge has been in the restaurant industry for over 30 years and has taken his experience all over the world to serve up locally sourced, innovative cuisine. Using unique and inspired New World Cuisine he combines sustainable ingredients with flavors from the Mediterranean and China. Bosq sources local vendor Sustainable Settings located in Carbondale for fresh ingredients.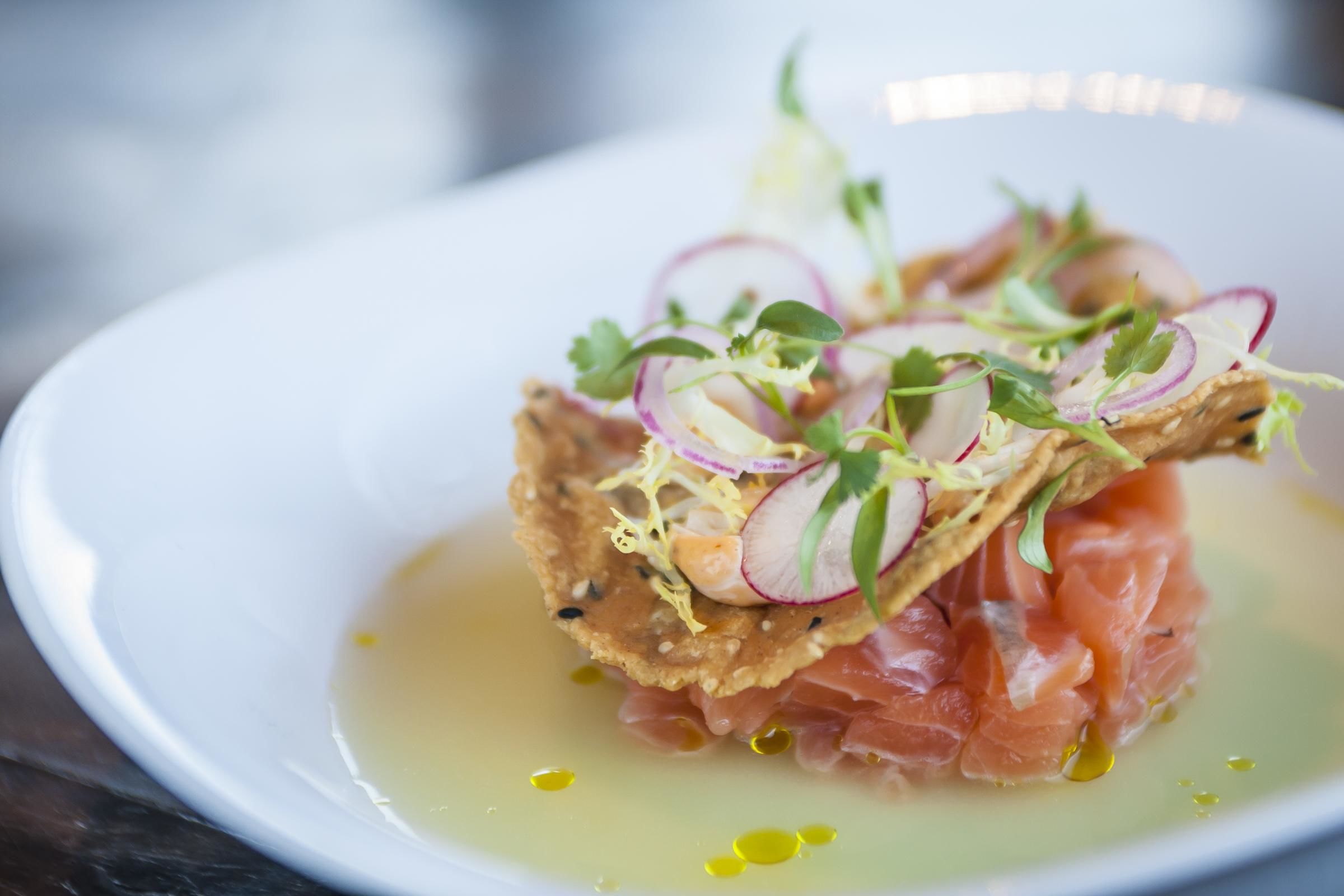 Element 47
The only restaurant in Aspen to receive a Five-Star Restaurant Award, Element 47 is also known for being committed to using only local ingredients in their dishes. Some of their purveyors include Rock Bottom Ranch, Ela Family Farms, Eagle Springs Organic, Austin Family Farms, and many other Colorado-based sources. For a complete list and what they receive from each farm click here.
Spring Café
This organic café offers a clean, organic, plant-based menu that supplements the activity-driven lifestyle of this mountain town. They use organic oils, fresh herbs, paleo flours, and dairy pastured from Colorado sourced farms that support animal welfare. Even their cookware is free of harmful metals and the café was built using non-toxic materials.
For other dining recommendations in Aspen, please click here.
Our trip highlights page features many "must-do" Aspen activities including a locally grown page for all our visiting foodies.