Don't have much vacation time this summer? Find ideas in this three-day itinerary for Aspen to help you fit all of the town's best attractions and must do activities into one quick trip!
Day 1
Morning: Start your morning off on a high note (11,212 feet to be exact) with yoga on top of Aspen Mountain. Starting in July, Aspen Snowmass hosts yoga sessions on top of Ajax every Monday-Friday at 10:30 a.m. Head to the gondola plaza to purchase a ticket.  Mats are provided for all hour-long open-air Hath yoga classes. 

Afternoon: The most photographed mountains in North America are right here in Aspen and a highlight that cannot be missed no matter how much time you have during your stay. Reservations are required and can be found online here. 
Evening: Summer brings the cultural soul of Aspen to life and there are a plethora of events back on this season. Enjoy a show from Theatre Aspen at the Hurst Theatre, located next to the stunning John Denver Sanctuary or see which world-class jazz musicians are in town for a JAS Café show. This is just a sample of Aspen's artistic heritage, discover more events to attend here. 
Day 2
Morning: From mid June to September visitors and locals can spend Saturday mornings at the Aspen Saturday Market. Open from 8:30 a.m.- 2 p.m., the market offers Colorado grown produce and a food court for lunch or a snack. If you can't make the Saturday Market, shop local artisans online here. 
Afternoon: Aspen Art Museum's 30,000 square-foot Shigeru Ban-designed building has been the talk of the town since its opening in August 2014. Head to the museum (always free of admission) and browse the newest, most important evolutions in international contemporary art. While at the museum, make your way to the rooftop to soak in the incredible views of Aspen Mountain with a delicious lunch at So Café.
Looking for additional art to peruse? Aspen's art galleries punctuate the downtown streets, inviting passersby to browse their diverse collections. Baldwin Gallery, a sleek, open space, showcases works by some of the most acclaimed contemporary artists in the business such as Louise Nevelson, David LaChapelle, Ewan Gibbs, Todd Hido, and Jennifer Bartlett. Galerie Maximillian and Forré Fine Art are Aspen's homes for the great modern masters including Picasso and Chagall. 
Evening: Rejoice in the local flavors of Colorado and dine out at one of our many tasty restaurants. Explore more of our dining scene here. 
Day 3
Morning: Take a stroll through Aspen Historical Society's Decade by Decade exhibit at the Wheeler/Stallard Museum. Schedule your tour with the Aspen Historical Society online here. 
Afternoon: Enjoy an afternoon bike ride down to Woody Creek Tavern from Aspen along the Rio Grande trail. The 12 mile easy downhill ride takes bikers along a beautiful scenic trail following the course of the Roaring Fork River. Once you arrive at the tavern, enjoy lunch in a comfortable atmosphere at the place for the anti-establishmentarianism and the legendary Hunter S. Thompson. Great tip for visitors- rent you bikes from Bike Butlers, and they'll pick you up after lunch (or from any location) and drive you back to town.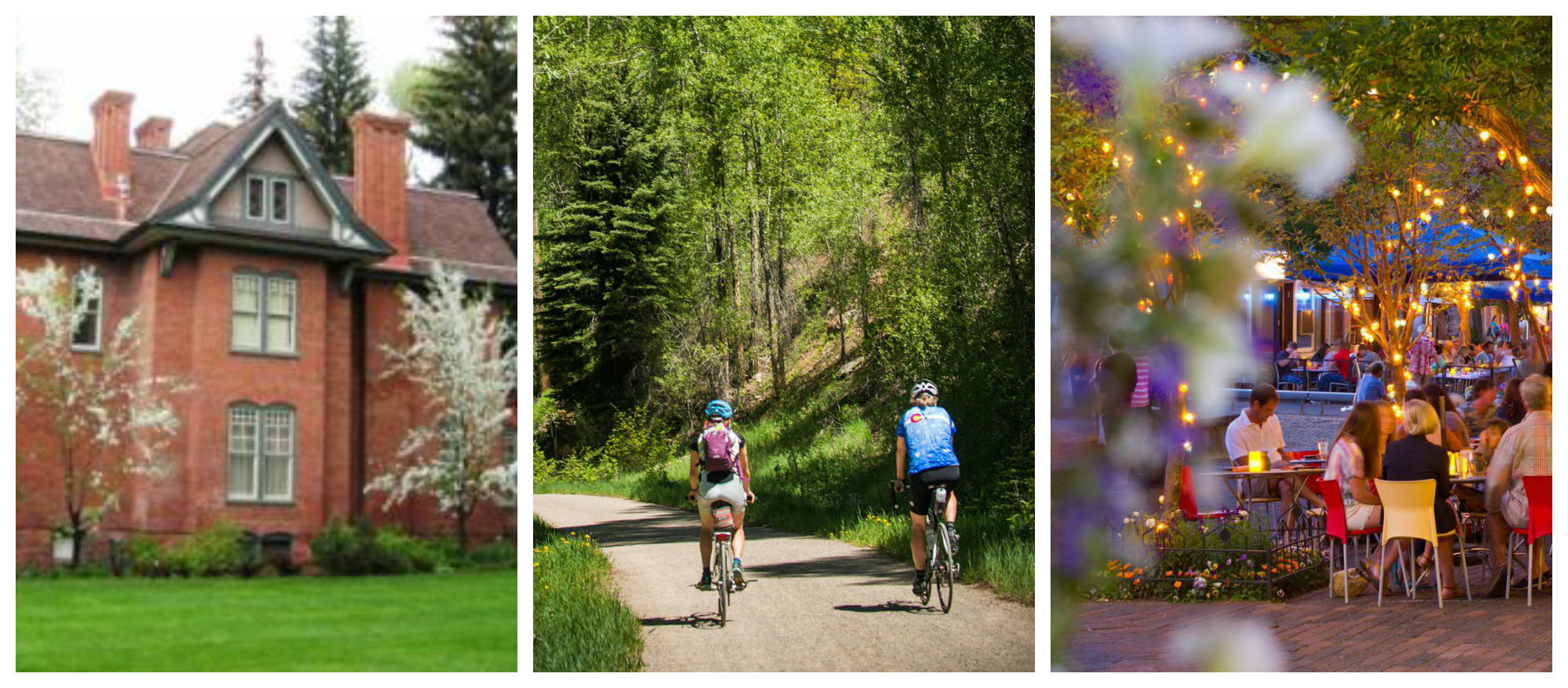 When you're back in town, cool off at the Grottos, an easily accessible area through a series of short trails. Within a few minutes from the trailhead, you can access ice caves, view the waterfalls, or lounge in the sun on the rocks with a picnic. This is a great area for families and those seeking a beautiful view without the long trek to get there.
Evening: With more than 300 days of sunshine per year, dining al fresco is a great option for those looking to soak up rays through the night. Head to Idylwide Aspen and sit outside at their beer garden with a selection of 200 unique craft beers. Additional al fresco options include Ajax Tavern, Aspen Tap, Betula and more. For a full listing of Aspen's restaurants (well over 100 choices), click here.
After dinner enjoy strolling Aspen's pedestrian malls with a stop at Paradise Bakery.
For additional ideas on what to do while visiting Aspen check out:

Tag us in your posts on social @AspenCo for a chance to be reposted on our page and website!
Stay in the know, sign up for our Monthly Newsletter & keep up-to-date on Aspen events, activities, lodging deals and more.