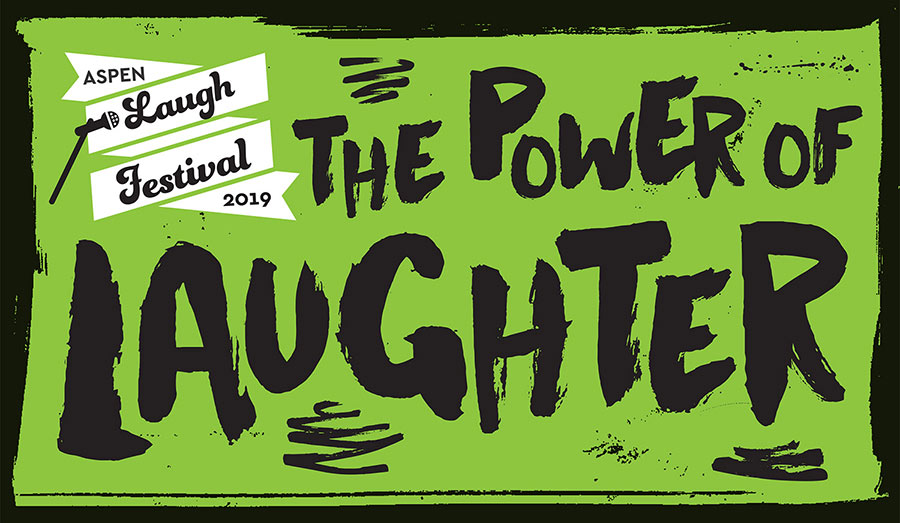 In honor of Aspen Laugh Festival kicking off tonight, we have a letter from Executive Director of the Wheeler Opera House, Gena Buhler, to all comedy fans on her "not-to-be-missed" comics performing this week: 
Dear Wheeler Opera House and Aspen Laugh Festival Comedy Fan,
They say, "laughter is the best medicine," but as far as I'm concerned, most medicine is prescribed infrequently and only for emergencies. I don't know about you, but I want laughter daily, and I'm certainly not concerned about overdosing on comedy! With February's arrival, it means that the Aspen Laugh Festival is here (February 20-23), and I can promise you're in for so much laughter!
When curating the lineup for this year's festival, I immediately knew we wanted even more comedy than ever before, with all our mainstage headliners selling out in past years.  I didn't want to just add in more big shows and big names.  I wanted to create a unique experience for both Aspen and the comics alike.  We are pleased to be partnering with Limelight Hotel Aspen to create a new comedy venue "Limelight Lounge". The series will feature Alex Edelman (Feb 22) and Gary Gulman (Feb 23). I hope you will join us as we create a new Aspen comedy club, with just 100 seats. Plus, we have dinner and a show packages that make it easy to grab a fantastic dinner just before the early show.
With so many comics to choose from, here is my director's pick of those "not-to-be missed":
#1:  JULIAN McCULLOUGH: 
Aspen fell in love with Julian on our series this summer, so we asked him back by popular demand. If you missed him in August, you'd recognize him from Late Night with Jimmy Fallon, Larry King Now, Conan, Chelsey Lately, Love You Mean It with Whitney Cummings and much more. 
Two chances to see Julian McCullough!
Triple The Laughs with Rachel Feinstein, Moshe Kasher & Julian McCullough

Friday, February 22 @ 7:30 PM
Wheeler Opera House

Après Comedy Hour feat. Becky Robinson, Julian McCullough & Ismo Leikola

Saturday, February 23 @ 4:00 PM
Silver City Saloon FREE!
#2 ALEX EDELMAN
Returning to the festival is frequent-festival-favorite Alex Edelman. You may remember Alex as both an opening act for Kevin Nealon and a comic and host on the Après Comedy series during past festivals.  Alex has a new show titled "Just for Me" that I saw at the Just For Laughs festival in Montreal this summer.  I immediately knew it would be a perfect fit for the new Limelight Lounge series. In this intimate "comedy club-esque" setting, you can sit back for some lounging and laughing. You might even find me over there sipping a glass of whiskey and laughing away.
Aspen Laugh Festival Presents: Alex Edelman "Just for Me"

Friday February 22 @ 6:00 PM
Limelight Lounge
Check out the Dinner & Show package to make dinner easy!
#3 TIG NOTARO
A personal favorite, Tig Notaro's career just seems to keep skyrocketing lately. She'll be taking our stage just before her new Netflix Political Comedy series "First Ladies" with Jennifer Aniston debuts, so we're thrilled to catch her while we can. Tig is best known for her gut-busting deadpan style comedy; her album "Live" was nominated for a Grammy Award for Best Comedy Album and she's starred on everything from The Sarah Silverman Program to Inside Amy Schumer. 
Aspen Laugh Festival Presents: Tig Notaro

Friday, February 22 @ 9:30 PM
Wheeler Opera House
#4 JO KOY
Closing the festival this year will be Jo Koy, with two jam-packed shows. Jo's work has been seen on the full late-night TV circuit and his contributions on VH1's I Love The 70s/80s/90s are hysterical. Jo has also released three successful comedy specials on Netflix and is a popular guest on The Adam Carolla Show. We want to make sure to go out with a bang, and nobody could be more up for the tall task than Jo Koy.
Aspen Laugh Festival Presents: Jo Koy

Saturday, February 23 @ 7:30 PM and 9:30 PM
Wheeler Opera House
When you're off the mountain and ready to decompress this February, make sure to joins us for cocktails and comedy as we laugh our way through another incredible Aspen Laugh Festival.   This is just a quick overview of my "must-see" shows but check out the full line-up at www.aspenlaugh.com.   Our headliner passes are sold out, but there is still great savings with our Pick 3 passes.
Looking forward to laughing together with you soon,
Gena