Bike trails in Aspen range from mild-mannered and smooth pavement to rocky and extreme lift-accessed downhill trails. Mountain bikers will find hundreds of miles of trails from scenic jeep roads to technical downhill single-track. Find our top picks for mountain biking trails  in Aspen and Snowmass below: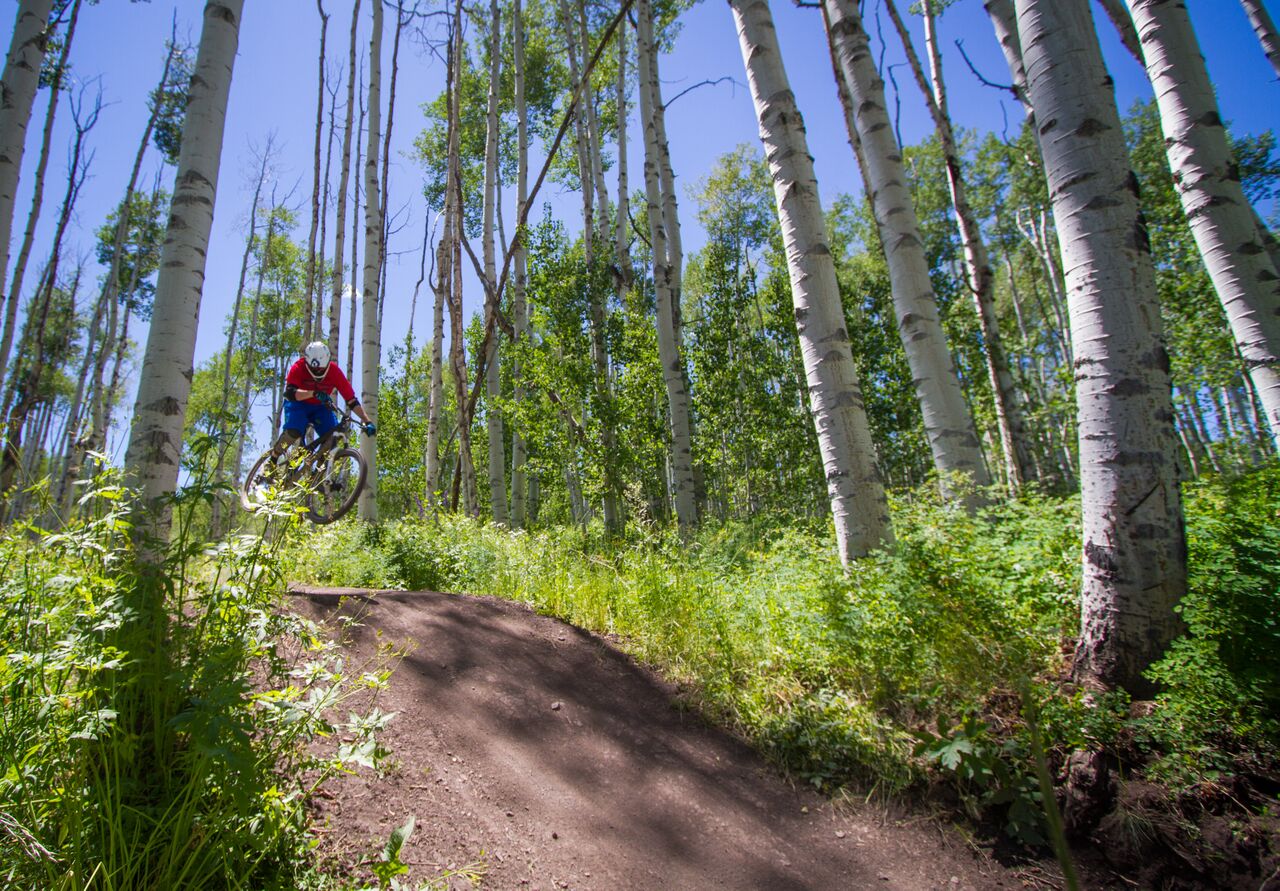 Lowline trail. The Lowline Trail runs below the Highline Trail and a loop can be created between the two trails. This is a singletrack trail with an easy flow but with a few narrow sections that may require technical bike placement or bike dismount. For more information visit Bike Snowmass online here. 
Sky Mountain Park is a 2,500 acer area with a network of trails that connect Aspen and Snowmass Village. This intermediate ride boasts wonderful views of Aspen, Snowmass, Independence Pass, Mount Sopris, and Basalt Mountain. 
Government Trail. This difficult trail packs enough punch to please even the most accomplished mountain biker. It begins with a challenging climb up Snowmass Ski Area and then traverses across ski runs and through dense evergreens to the Buttermilk Ski Area. Here, the trail roller-coasters through aspen groves and thrilling single-track, ending just outside of Aspen.
Smuggler-Hunter Creek Loop.  Aspen's classic intermediate-to-advanced ride, this trail begins with the steep Smuggler Mountain Road — a 1.5-mile climb guaranteed to get your heart pumping. It winds into the beautiful Hunter Creek Valley, passing over a smooth single-track, through vast aspen groves, and past the ruins of a few deserted mining cabins.
Winding from the top of the Elk Camp Chairlift all the way to Snowmass Base Village, Snowmass Bike Park offers something for every level of downhill mountain bike rider. With nearly 3,000 vertical feet of purpose-built downhill trails, Snowmass Bike Park delivers all your favorite aspects of a winter ski experience, without the snow. Come cruise through the forests and meadows and see for yourself
                                                                                                                                                                                                                            Photo Credit via John Matrix, Bike List.
Click here and here for local map resources for bikers to explore. 
Aspen and the Roaring Fork Valley are the first destination in Colorado to receive the designation as an IMBA Gold Ride Center from the International Mountain Biking Association (IMBA). The IMBA Gold-Level evaluation criteria is comprised of key aspects that make for an amazing mountain bike destination and include variety of trail types, overall trail mileage, quality of trail experiences, destination best practices, and local services. The Roaring Fork Valley's system of trails scored high marks in each of these categories, contributing to the IMBA Gold-Level designation.
From Aspen's Hunter Creek Valley, to Sky Mountain Park single track between Aspen and Snowmass Village, to the Rio Grande Trail connecting the entire valley, to lift-served trails on Snowmass, the Roaring Fork Valley reigns as one of America's top mountain biking destinations. The IMBA Gold-Level award distinguishes Aspen and the Roaring Fork Valley as an iconic mountain biking destination, and the destination represents the pinnacle of mountain biking communities.